Duosoft Flow | Poron Memory Foam Insoles - with Duosoft Flow Gel Cushioning
Designed for people with Diabetes, Arthritis, or other conditions that result in sensitive feet. Duosoft Flow insoles help to promote blood flow by gently caressing the feet during ambulation.
GB
https://schema.org/MerchantReturnFiniteReturnWindow
14
https://schema.org/ReturnByMail
https://schema.org/FreeReturn

Product Description
The Duosoft Flow's design combines the latest gel technology with the tried and trusted qualities of Medical Grade PORON 96.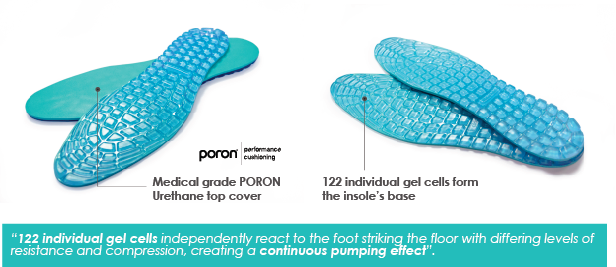 Duosoft Flow Diabetic Insoles features and benefits:
When combined with a contoured insole helps improve blood circulation in feet via a 'pumping effect'².
Help prevent ulcers, sores and calluses through the promotion of healthy skin tissue and the prevention of skin breakdown.
Provide outstanding cushioning, which can prevent plantar ulceration in patients⁵ offloading and shock absorption.
Alleviate general aches and pains.
Help prevent foot fatigue.
Duosoft Flow are designed to fit into both traditional footwear and 'additional depth' orthopaedic shoes.
Universal sizing - cut to fit.
Each pack comes with cut-to-size sizing chart.

Gel Cell Base
122 individual gel cells independently react to the foot the striking the floor increasing the available surface area and reducing peak loading¹ with differing levels of resistance and compression, creating a continuous pump effect.
This innovative gel cell is designed to reduce impact, to dampen vibration and to displace pressure.
This low durometer gel technology is manufactured from a true visco-elastic gel. The gel cells will not leach oil, will not flatten during use and will not compress over time.

PORON Top Cover
PORON Medical Urethanes are formulated to last. They contain no plasticisers or processing agents, and will not
become brittle or crack with age. PORON materials pass both the Schwartz and Peck Human Patch Tests for
primary skin irritation.

PORON Urethanes have been proven to reduce vertical pressures by up to 18%. The slow recovery quality of the material cradles the foot and allows enhanced redistribution of body weight over the foot's plantar surface. It is soft, comfortable and allows the feet to remain cool, dry and odourless.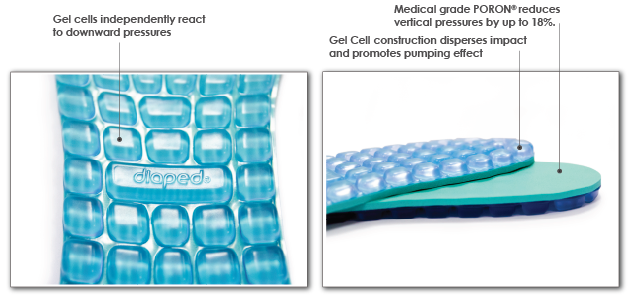 How the insoles work
Blood that flows through the body is responsible for transporting essential nutrients and oxygen to the tissues
and cells of the body, in particularly to the foot. When blood flow becomes reduced due to external stresses
and pressures, the delivery of these essential elements is affected.
Gentle caressing of the foot may be beneficial as it aids the blood to flow.

The Peripheral Venous Pump effect
Studies² state that during ambulation (or walking)induced natural compression of the plantar surface of the foot stimulates a the plantar peripheral venous pump in the foot, which in turn pushes blood to the posterior tibial veins in of the leg foot.

Duosoft Flow insoles when combined with a contoured insole provide an enhanced massaging action upon the plantar surface of the foot assisting the efficiency of the venous pump thus reducing the potential for venous stasis and in turn improve blood flow in the foot².

Ground reaction forces upon weight bearing 'pushes' the gel cells into the soft tissues overlying the Peripheral Plantar venous pump, hence promoting improved blood flow.

Improved Oxygen Saturation
Trials have suggested that Duosoft Flow insoles maintained SpO2 oxygen saturation levels four times better than the standard therapeutic insoles. It is accepted by Diabetic Foot specialists that enhancing tissue oxygenation protects against tissue breakdown, hence preventing ulcers, sores and calluses.

Indications and when to use:
● Insensate feet – absent sensation.
● Help protect against ulcer formation.
● Arthritic foot conditions.
● Metatarsalgia.
● Plantar Fasciitis.
● Neuropathy.
● Morton's Neuralgia.
● Tired and fatigued feet.
REFERENCES:
¹ Anthony, S. Williamson, J. (2013) A Study to Investigate the Effect of Sofsole® Silicone Gel Insoles on Plantar Pressure (kPa), in Non-Pathological Participants. (Unpublished)
² Flavell, I. Tasker, J. (2012) Does a Sofsole ribbed gel insole improve the microcirculation of the foot during exercise? (Unpublished)
³Leber, C. & Evanski, P. M. (1986) A comparison of shoe insole materials in plantar pressure relief. Prosthetics and Orthotics International. [Online] Vol. 10.135-138.
⁴Orlin, M. N. & McPoil, T. G. (2000) Plantar Pressure Assessment. Journal of the American Physical Therapy Association. [Online] Vol.80 399-409.
⁵Duffin, A. C., Kidd, R., Chan, A. & Donaghue, K. C. (2003) High Plantar Pressure and Callus in Diabetic Adolescents. Journal of the American Podiatric Medical Association. [Online] Vol. 93.
Product previously referred to as Sofsol insole in studies.
We found other products you might like!