Product Description
The Swiss Foot File Sander is made of stainless steel and can be sterilised, unlike cheaper plastic foot sanders. The abrasives used with this Swiss File are sterile, single packed and designed for single use only. This maintains a good level of hygiene and reduces the risk of cross contamination.

The Swiss Foot File is used with adhesive backed abrasives which can be easily applied to the handle within seconds. After each use, you can
remove and dispose of the abrasive.

Swiss File Foot Sander & Abrasives Features and Benefits:
One-off purchase.
Very practical, as the abrasive does not have to be cleaned laboriously by hand.
Superior hygiene - autoclavable.
Much cheaper than using throw away foot sanders.
Environmentally friendly.
Additional abrasives sold separately in 60 grain (coarse), 100 grain (moderate) and 220 grain (fine).
Usage tips:
Remove the protective film from the abrasive.
Stick the abrasive onto the foot file.
File off the calloused skin until smooth.
Remove and dispose of abrasive after use.
Swiss File Abrasives
80 Abrasive sleeves packed in a practical dispenser.
Sterile, disposable, individually wrapped abrasive films.
60 Grain grade allows for coarse foot sanding.
100 Grain grade allows for moderate foot sanding, as you would expect with a standard plastic foot sander.
220 Grain grade allows for fine foot sanding.
Pack Size: Pack of 80.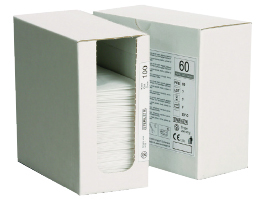 Swiss File Display Stand

A small black display stand for displaying the Swiss File Foot Sander in the clinic.
Weight: 1.1kg (empty).
Dimensions: H8.5cm x W32cm x D7.5cm.
Frequently bought together