Voxelcare is a software and hardware engineering company that has been working in the foot health sector for over 20 years. They have extensive experience in developing cloud-based CAD/CAM solutions, scanning devices, CNC machines, and 3D printers.
The company has created a highly customizable online platform that provides custom orthotic manufacturers with the tools they need to efficiently and effectively create accurate devices for their patients. This platform is designed with the invaluable feedback from daily users in real-life scenarios, and it focuses on portability, measurement, design, marketing, and fully automated production to deliver high-quality results with minimal effort.
Voxelcare Ecosystem
Create your own Voxelcare ecosystem and enjoy all the advantages of having the whole manufacturing cycle connected to the cloud.
Easily link your scanner directly to the cloud and seamlessly integrate patient intake data with foot orthotic design. Our high-precision scanners undergo thorough in-house testing to ensure exceptional quality before shipping.
Voxelcare's Online CAD tool is exclusively designed for custom foot orthotic design. Unlike generic software, it's user-friendly and equipped with all necessary features for precision devices. This software allows clinicians to blend traditional and modern techniques for optimal results, ensuring the highest quality orthotics for their patients.
Boost your productivity with Voxelcare's cutting-edge milling machines and 3D printers. From the latest 3D printing technologies to the perfect milling machine for your specific environment and production needs, our manufacturing range offers a world of possibilities to explore.
Industry Leading Cloud Technology
Voxelcare is the first fully cloud-based solutions provider in the industry, with all digital tools available for managing customers, users, and orders live in the cloud.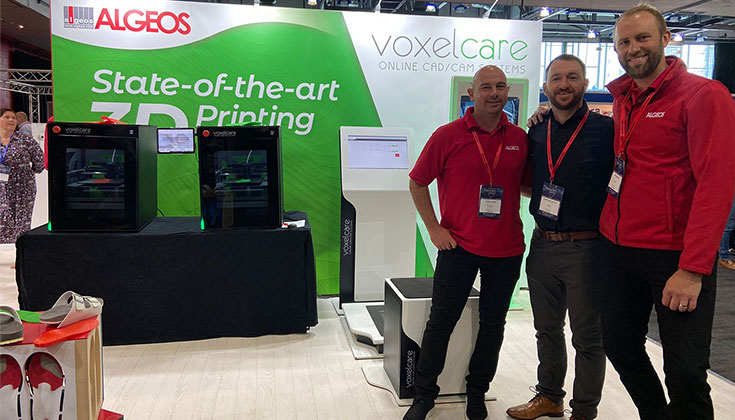 Algeos has secured an exclusive distribution deal for a new 3D printing machine developed by Voxelcare. The Voxelcare VXC3DP Filament Cube printing unit allows clinicians to print foot orthotics such as shoe or heel inserts, reducing waste and manufacturing time and potentially reducing NHS waiting lists. Algeos will be the sole distributor of the 3D printer in the UK and Australia, and this partnership is part of a broader relationship between the two companies focused on driving the future of CAD Orthotics.
Revolutionize Your Orthotic Manufacturing
Leave your details in the form below and we willcontact you shortly will more information.