Product Description
The DARCO Relief Contour Insole is a long-soled cushion insole. The lateral and medial longitudinal arch and the transverse arch are perfectly adapted to the shape of the foot and provide optimal pressure redistribution. This special insole design ensures that large pressure peaks are completely avoided and full plantar weight-bearing (approx. 90%) is achieved. The self-supporting polyurethane material quickly recovers its shape and can be trimmed. Dorsal flexion of 2.4 degrees is achieved through the negative heel. The result is slight rear foot weight-bearing and consequently, forefoot off-loading.

For use following hallux valgus and small toe surgeries (austin, akin, scarf, weil, hohmann, etc.).
Talipes, valgus/flat foot/splayfoot or vasoneurosis.
In the case of angio-neuropathic changes of the foot where mild foot deformities may persist.
DARCO Relief Contour Insole Features and Benefits:
Insole made of super soft material.
Pressure redistribution of almost 90% is achieved through the contours which are optimally adapted to the anatomy of the foot.
Dorsal flexion of 2.4 degrees is achieved through the negative heel.
Soft light-weight comfortable insole with a stretchable jersey/lycra knit fabric covering.
PU material is customisable and can be altered.
Available for right and left fit.
12mm thick.
Compatible with:
DARCO MedSurg Post-Operative Shoe.
DARCO Relief Dual Off-Loading Shoe.
Plantar pressure measurement Relief Contour Insole: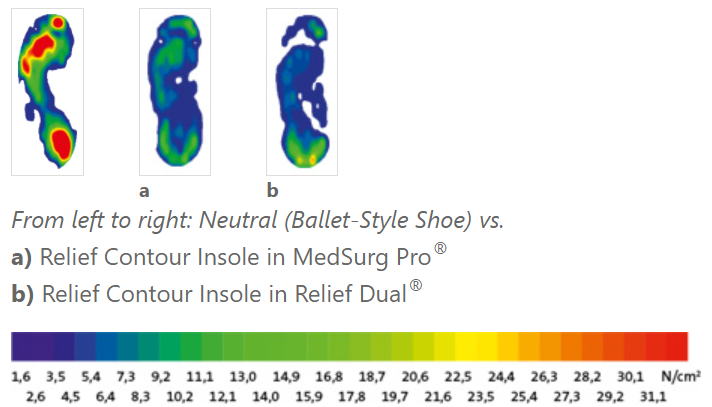 We found other products you might like!