DARCO Plantar Fasciitis Sleeve
The DARCO Plantar Fasciitis Sleeve is the perfect solution for heel spurs, heel pain and swellings.
Product Description
The new Body Armor® Plantar Fasciitis Sleeve from DARCO is the perfect solution for heel spurs, heel pain and swellings. The high-quality bandage "Made in Germany" fulfils all demands for a modern compression sock with a perfect fit. The modern manufacturing method provides pleasant wearing comfort. Different compression zones ensure optimal blood flow and support the physiological structure of the foot.
Indications for use:
Plantar Fasciitis
Heel Spurs
Arch pain and or arch weakness
Edema
The Body Armor® Sleeve relieves the symptoms of plantar fasciitis by promoting circulation and reducing oedema and fatigue of the foot.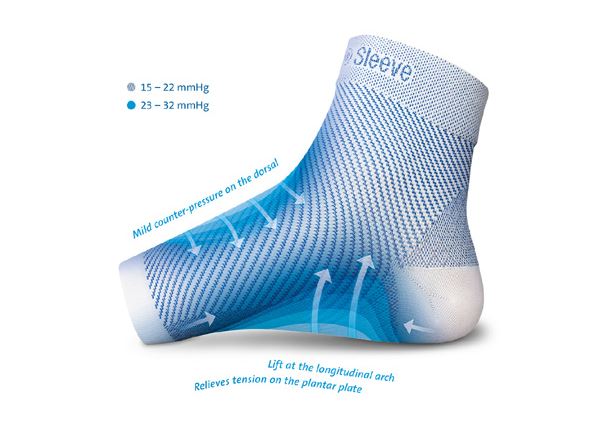 DARCO Plantar Fasciitis Sleeve Features and Benefits:
Different compression zones to facilitate blood flow.
Continuous wave-compression.
Special weave technique for easy wear without constrictions or pinching.
Anatomically correct weave for maximum comfort.
Low Profile Design.
Constructed of medical grade fabric.
A moisture-permeable, soft material.
Ideal for athletes.
Can be worn on the right and left.

Washable at 40°C.

Frequently bought together
We found other products you might like!