Product Description
Inflatable and disposable offloading device used for the prevention and treatment of pressure ulcers by pressure distribution.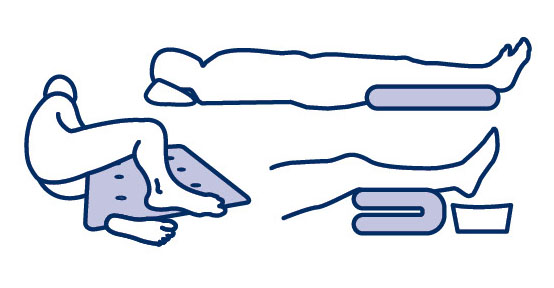 An ergonomically designed offloading cushion ensuring stability without hindering the patient's movements. The All Up universal long is designed as a flexible positioning device for those patients who are bed-bound as well as seated in wheelchairs and chairs. With a patient lying on their side, the cushion will relieve the pelvis, heel and the inner side of the knee and ankle.
Even with the slightest movement, the cushion will stimulate the microcirculation of the skin, in turn optimising broader circulation.
The surface layer is made from a soft, flexible, heat and moisture absorbent non-woven material, which makes the product comfortable against the skin.
Developed in conjunction with leading wound care experts to ensure optimal comfort and hygiene for the user.
All Up Universal Long Features and benefits:
Designed for the prevention and treatment of pressure ulcers and sores when used as a wheelchair cushion or on an ordinary chair for comfort and the prevention and treatment of pressure ulcers by making the pressure even.
Multi-purpose device: can be used to support a variety of recovering positions – lying or seated thereby optimising the prevention and treatment of pressure sores.
For single patient use – ensuring infection control.
Simple to use and comfortable to wear, the surface layer is made from a soft, skin-friendly, non-woven material. Does not stick to skin, particularly in hot weather.
Tested and approved in accordance with ISO 10993-10:2010 skin irritation and sensitisation.
Cost effective and affordable in preventing and treating pressure ulcers
Machine washable at 60 degrees.
Presentation:
Each include an oral inflation device and valve patch.
When purchasing 12, the flat pack products come in a box of 12 - making it easy to store neatly in clinic areas.
Manual pump available separate under code LV0020.
Dimensions
70cm (length) x 55cm (width) x 8cm (depth)
We found other products you might like!