A new and innovative family of thermoplastic components for articulated AFOs - Launchpad
Realise the benefits of double action ankle joints without the large hardware and difficult fabrication. Featured below is the fully outfitted articulated AFO that combines pivot ankle joints, snapstop and X-tension components. This trio combination allows you to tune the shank-to-floor alignments with resist or stop motion to optimize gait and outcomes for your patient.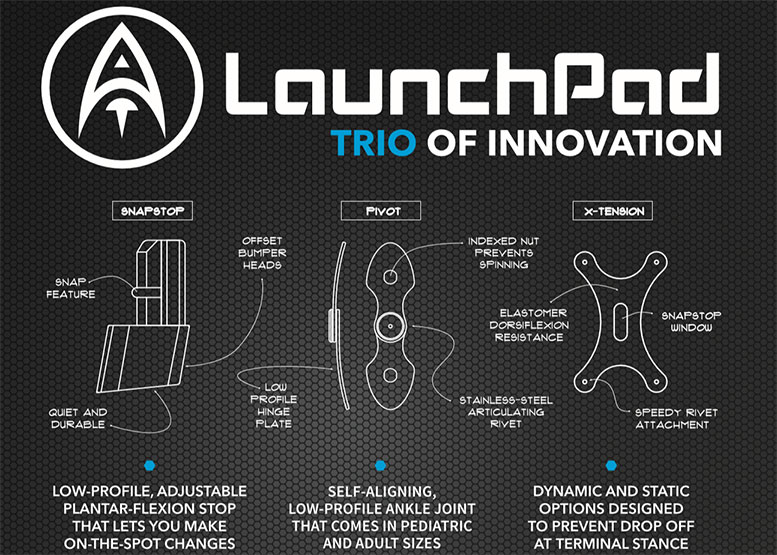 Introducing X-tension, Pivot & Snapstop
DYNAMIC X-TENSION
The Dynamic X-tension resists tibial progression and restores confidence throughout stance phase transitions over the foot, increasing 3rd rocker power and contralateral step length.
STATIC X-TENSION
Transitioning your AFO has never gotten easier! Choose the appropriate bumper height and add a Static X-Tension component to rigidly lock your AFO.
"Dear Launchpad, your products have changed my life! Or at least the solutions I provide for my patients. I am so pleased with Pivot hinges and Snapstop. Compared to hinges that I have been using, the Pivot hinges prevent rotational torsion while at the same time being more low profile. The large range of adjustments of Snapstop allow me to fine-tune exactly as I like at delivery and at follow-ups. Well done."
- Russ Yeager, CPO (Round Rock O&P)
Available in pediatric and adult sizes, the pivot ankle joint coordinates sizing with the snapstop product. The pivot joint on your AFO is simply a mechanism of movement that gives you an opportunity to control motion in the sagittal plane.
By itself it brings no value to the end user until you resist or stop motion. The index bushing prevents rotation during assembly. Like snapstop, gross lateral projection is reduced by molding around the smallest common denominator and then installing the thread height after fabrication.