Product Description
The Motion Control insole uses technically advanced materials, biomechanically engineered to provide comfort, improve foot health and aid physical performance. In addition, the Motion Control insole corrects alignment, prevents rolling ankles and overpronation and supination, e.g. flat feet.
This orthotic insole with innovative design combines an arch stabilizer integrated with Vy-Gel where heel strike occurs.
The structural stabiliser promotes optimised motion control and stability, while also aiding postural alignment, preventing overpronation, providing rigid support for flat feet and preventing the rolling of the ankles.


ETC Antifriction Fabric
Reduces heat and shear that cause blisters
Full Length PORON Cushioning
Adds all-day comfort: Anti-bacterial & anti-odour
Abzorb SBS Performance Gel Pad
Deadens shock across foot
Moulded-in Arch and Metatarsal Rise
Helps relieve pain and stop harmful overpronation and supination, correcting alignment and support the foot
Deep Polyurethane Heel Cup
Promotes maximum stability and helps correct the body's alignment supporting the arch preventing arch flattening
Moisture Management
Wicks away wetness to keep feet drier
Extra-Wide Abzorb SBS Heel Pad
Protects against Fasciitis (heel pain) and helps with associated existing pain

Typical users of this Orthotic Insole include:
People suffering from flat feet (who fall over a lot!)
People who see wear and rear on outside edge of shoe heel - pronator
Patients and self-helpers seeking a good, off-the-shelf orthotic insole that cannot cause harm if used incorrectly
Active workers on their feet all day (PPE)
Walkers
Golfers
Army operatives
People seeking general comfort

Motion Control Insoles Features & Benefits:
Anti-friction fabric reduces heat and shear to prevent blisters by draining moisture.
Lotusof is a full-length open cell, breathable, anti-microbial, anti-odour polyurethane mid-layer keeps feet dry for all-day comfort.
Vy-Gel performance grade elastomer pads provide shock absorption across the forefoot and heel strike to help protect it against fasciitis (heel pain).
Biomechanical design utilises advanced materials to provide support and stability for foot health and comfort.
Strong arch and metatarsal rise help relieve pain in the ball of the foot.
Ideal for flat footed larger patients with a wide fitting design and robust support.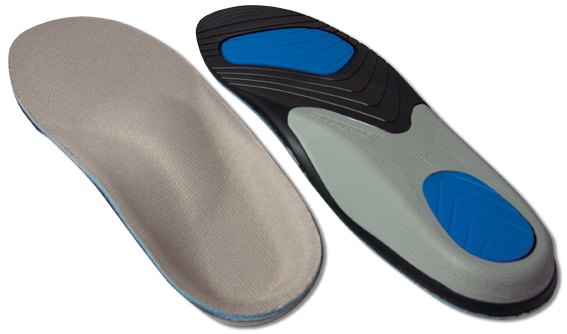 What are Orthotic Insoles?
The term functional orthoses describes a specific type of corrective device which is designed to increase structural integrity of the foot and lower limb. This is achieved by redistributing forces and ground reaction both of which cause abnormal skeletal motion throughout the weightbearing chain. The aim of the basic orthotic insole is to get rid of this abnormal skeletal compensation and enhance function back to the normal gait cycle and cause no joint restriction.
They are prescribed to improve function, stabilise joints, provide better positioning, decrease pain and prevent deformity.
Frequently bought together
We found other products you might like!