Product Description
Abicin 30% Resin Lacquer Features:
Abicin 30% Resin Lacquer is a treatment for fungal nail infections. It is based on the resin from Norwegian Spruce trees which has powerful antifungal and antibacterial properties.

What is spruce resin?
The use of Spruce Resin in woundcare goes back hundreds of years in Finland. In the North, where local populations are scattered over hundreds of square kilometres, residents have had to rely on local remedies to deal with common conditions and as the spruce tree uses resin to protect its own wounds from bacterial and fungal attack and heal damage so the locals used it for the same purpose on their own skin.
Abicin is one of nature's most powerful antifungals,
with significant clinical support.
Effective treatment for the management of mild to moderate fungal nail infections on any number of nails.
Effectively treats paronychia.

Convenient twice weekly application.

Quick drying

.

Norwegian Spruce resin is a broad-spectrum antimicrobial, effective against common fungal and bacterial pathogens.

Clinically proven to be as effective as the leading brand and more cost effective'

Clinical Research:
Refined Spruce Resin to Treat Chronic Wounds: Rebirth of an Old Folkloristic Therapy
In vitro fungistatic effects of natural coniferous resin from Norway spruce (Picea abies)
Efficacy of topical resin lacquer, amorolfine and oral terbinafine for treating toenail onychomycosis: a prospective, randomized, controlled, investigator-blinded, parallel-group clinical trial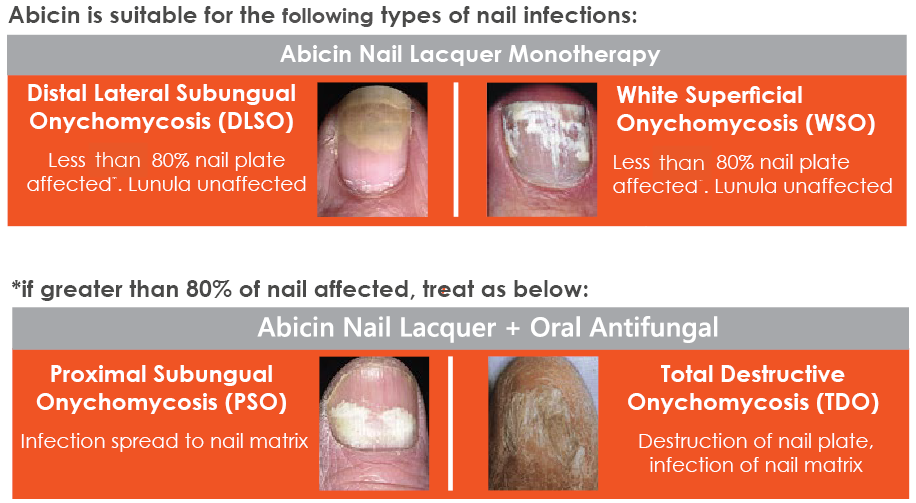 Abicin is a cost effective treatment and competitively priced against other leading Fungal Nail treatment brands.

Usage
To be used on adults as a healing-promoting treatment for nail fungus, athlete's foot and paronychia (inflammation of the cuticle). Abicin® 30% Resin lacquer promotes the healing of fungi causing nail fungus (dermatophytes, Trichophyton fungi) and bacterial infections. The resin content of the lacquer is high enough to guarantee the best possible effectiveness to prevent the growth of nail fungus.

Instructions For Use
To thin out a thickened nail, we recommend visiting a foot care professional. In home treatment, the nail's surface is to be roughened with a nail file if needed, then washed (to soften it) and dried before applying the Abicin 30% Resin lacquer.
The lacquer is applied thinly on the to-be-treated area using the brush in the bottle cap and then let to dry. The lacquer sets in about 5 minutes. The infected area (nail, nail root area and cuticle) are treated with Abicin 30% Resin lacquer twice a week.
The treatment is continued until the nail is completely healed. Nail fungus infection of the toes can last up to 9-12 months. The treatment is successful when a new, healthy nail has grown to replace the damaged nail. Do not use fake nails or cosmetic nail polishes during the Abicin treatment.
When treating athlete's foot, Abicin 30% Resin lacquer is applied on the to-be-treated area once a day until the skin has healed. Bacterial paronychia heals in 1-3 weeks.


What is a fungal nail infection?
A fungal infection of the nail, also known as onychomycosis or tinea Unguium, .is a disease of the keratin layer under the nail. These infections can be difficult to treat and affect approximately 3% of the population in the UK.
Fungal Nail Infections are rare in children, but the incidence increases with age. If you are aged over 60, there is a one in five chance you will have a nail infection and if you have diabetes, this increases to a one in three chance. The toenails are most commonly affected, although you may also get infections in the fingernails. Untreated fungal nail infection causes the nail to become thickened, weakened and prone to fragmentation. They may also discolour and become brown or yellow. It is important that treatment is sought as early as possible, as nail infections are much easier to treat in their early stages. In some individuals, a nail infection can lead to more serious complications, especially if there are associated medical conditions or poor circulation. These infections are not merely cosmetic and can spread to other nails if left untreated.
Over 90% of skin and fungal nail infections in man are due to fungi known as dermatophytes, i.e. filamentous fungi.
Some other nail conditions can look quite similar to nail infections. These include psoriasis of the nails, nail damage and changes caused by ageing through poor arterial circulation in the lower limbs.
We found other products you might like!