Gel Heel Cushion with Robust Absorbent Cover - Relieve Heel Strike and Running and Walking - 3 Sizes
Are you tired of the discomfort caused by heel spurs, plantar fasciitis, or Achilles tendonitis? Look no further. This nifty heel cushion fits any shoe type and is even tacky for static positioning in high heels.
As low as
£9.54
Sold per Pair
GB
https://schema.org/MerchantReturnFiniteReturnWindow
14
https://schema.org/ReturnByMail
https://schema.org/FreeReturn
Product Description
Introducing our Silicone Gel Heel Cushion Pads - the ultimate solution for a range of foot conditions causing heel pain across various footwear styles. Are you tired of the discomfort caused by heel spurs, plantar fasciitis, or Achilles tendonitis? Look no further! Our Silicone Gel Heel Cushion is designed to alleviate the pain associated with these common foot conditions and more.
Experience unparalleled comfort with our innovative design that combines superior cushioning with advanced features. Our heel cushion incorporates just the right level of tackiness, ensuring it stays securely in place within a variety of footwear, including high heels, football boots, running shoes, and even dancing shoes.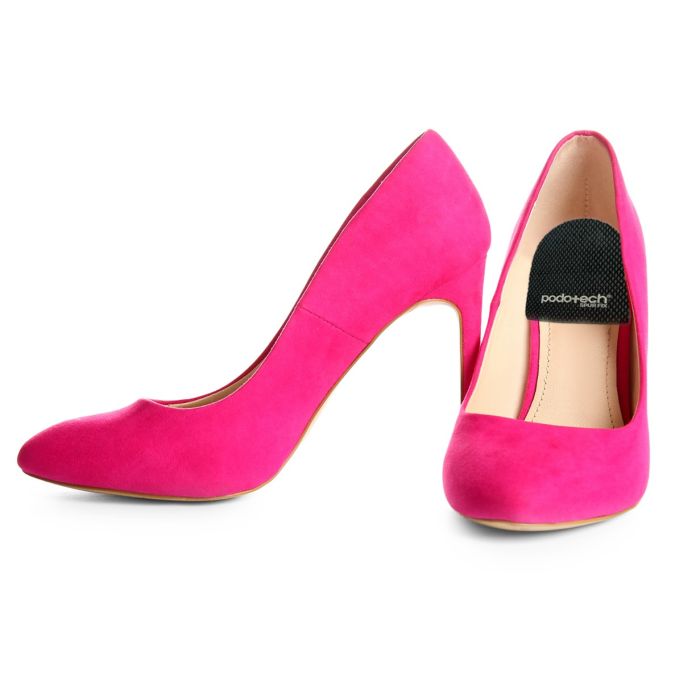 No matter your style or activity, you can count on our cushion to provide steady support every step of the way.
Designed for both everyday use and active lifestyles, our cushion is discreet, durable, and dependable. Don't let foot conditions hold you back. Take the first step towards pain relief and experience the comfort you deserve with our silicone gel heel cushion pad today, whether you're strutting in high heels, sprinting on the field in football boots, hitting the pavement in running shoes, or dancing the night away in your favourite dance shoes. Your feet will thank you.
Foot Condition Relief: Say goodbye to the agony of common foot conditions such as heel spurs, plantar fasciitis, and Achilles tendonitis. Our heel inserts are engineered to alleviate these issues, offering you the freedom to move comfortably and confidently.
Versatile Compatibility: Whether you prefer the elegance of high heels, the ruggedness of football boots, the support of running shoes, or the agility of dancing shoes, our Silicone Gel Heel Cushion fits seamlessly into your preferred footwear styles, making it incredibly versatile for different activities and occasions.
Advanced Tackiness: One of the key features is the incorporation of just the right level of tackiness. This ensures that the cushion remains securely in place within your shoe, providing stable and consistent support throughout your daily activities, no matter how demanding they may be.
Moisture-Absorbing Lining: To enhance your comfort further, our heel cushion includes a moisture-absorbing lining. This special feature actively wicks away sweat and moisture, keeping your feet dry and fresh even during extended wear, allowing you to stay active and pain-free.
Treat Several Heel Pain Issues: Heel Cushion Pads help with Achilles tendinitis, Achilles tendon rupture, Ankylosing spondylitis, Bursitis, Haglund's deformity, Heel spurs and Osteomyelitis.
Frequently bought together
We found other products you might like!