Product Description
FAST Sphyg features a unique push button inflation mechanism. Unlike traditional sphygs which require pumping a bulb to increase cuff pressure, this new sphyg technology reduces hand and wrist strain by automatically inflating the cuff using a built-in battery operated pump. The trigger deflation method is easier to control than knobs which need to be turned and ensures accurate measurements.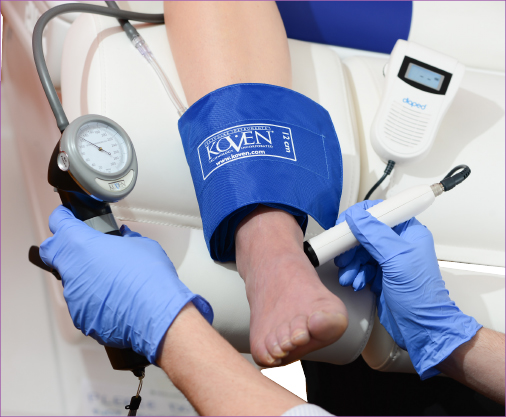 Indications:
The FAST Sphyg is intended to be used with a stethoscope or vascular doppler and an appropriately sized cuff*; for indirect measurement of arterial blood pressure.
FAST Sphyg Features:
Ergonomic design.
Push button inflation.
User controlled deflation.
Rechargeable battery.
Adjustable wrist strap.
Multipurpose - from toe cuffs to large thigh cuffs.
FAST Sphyg Benefits:
Natural conforming design - slimline for user comfort.
Reduces hand and wrist strain.
Engaging diagnostic for accurate readings.
Portable.
Fully recharged in 1 hour - approx. 250 readings.
Provides a cost-effective alternative to a sophisticated vascular doppler with cuff inflator.
Specifications:
Nominal Pressure Range: 0-300 mmHg
Pressure Accuracy: < + 3 mmHg
Max. Air Leakage Rate: < 4 mmHg/minute
Power: Rechargeable Li-ion Battery
Voltage: 3.7 Volts
Inflation speed: Variable
Dimensions: 216(L) x 76(W) x 89(H) mm. 49mm (dial face diameter)
Weight: 310g
Electrical safety: Conforms to IEC60601-1 Class IIa equipment. Internally powered equipment. Type B applied part. Conforms to Directive 2011/65/EU on the restriction of the use of certain hazardous substances in electrical and electronic equipment.
Shockproof: Retains calibration for drops under 25cm.
Medical Device Class IIa.
Manufacturer warranty: 2 years
Includes:
1 x FAST Aneroid Sphygmomanometer
1 x International AC charger
1 x Adjustable wrist strap connector
1 x Operational Manual & Reference Guide
1 x Male Luer Connector
Note for old cuffs you may need a different connector (female)- please ask us when placing your order.
*All cuffs are sold separately
We found other products you might like!