Product Description
Ready-to-use, orthotic blanks cut from Aortha PPC (Copolymer Polypropylene) in a variety of colours for a quick, high quality custom Foot Orthotic.

Aortha PPC has excellent physical characteristics, particularly for applications where impact strength and heat resistance is important. The ability of Polypropylene to yield pressure and torque, yet consistently return to its form without fatiguing, will eliminate distortion and ensure a resilient final appliance.

Typical thermoforming temperatures: 180-200°C.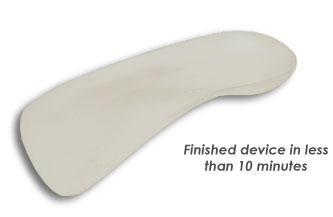 Aortha PPC Orthotic Blanks Features:
Lightweight with good rigidity
Good impact resistance
Produces robust Orthoses
3 Colours to suit your requirements.
High performance PPC
Economically priced
Formulated for high resistance to cracking, impact and general fatigue
Blank sizing allows for deep heel cups and directional rigidity for greater foot control.
Aortha PPC Orthotic Blanks Benefits:
Improved efficiency and time saving solution
Space saving - easy to store
Cost effective - no need to order huge sheets
Reduced wastage - less excess just thrown away
*sold in 10 pair packs*
Usage advice - How to use
The new Polypropylene has a higher level of ductility than the previous polypropylene which enables enhanced levels of moulding accuracy and less post moulding creep.

Below is our recommended method of use with a standard Algeos vacuum press.
Set oven temperature to 185°C.
Remove protective film from both sides of the pre-cut Polypropylene blank.
Place on a flat surface in the oven. If possible allow 2cm of the polypropylene to hang over the edge of the heating shelf.
Heat at 185°C for 6 minutes or until the over hanging polypropylene bends under it's own weight to 45°.
Transfer to the rectified plaster of paris cast on the platen of the Algeos vacuum press.
Evacuate the air from the vacuum press as quickly as possible to avoid trapped air on the surface of the moulding
Allow the vacuum formed Polypropylene to cool naturally
Trim and finish device as desired.