Slimflex Simple Kits - Medium Density - Full Length Orthotic Insoles
Each kit contains adhesive backed posting wedges.
Product Description
Slimflex chairside kits are designed to provide the clinician with a simple and convenient solution to insole modification. Each kit contains a pair of full length Slimflex orthotics and adhesive backed posting wedges, allowing for both rearfoot and forefoot posts.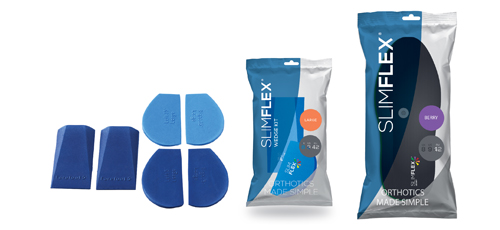 Kit contains:
1 Pair of full length Slimflex insoles. (Choose from low, medium or high density).
3.5° Left rearfoot post.
3.5° Right rearfoot post.
5° Left rearfoot post.
5° Right rearfoot post.
2 x Forefoot Wedge 5°.
Kit benefits:
Less waste for low volume users.
Cost effective.
Easy storage.
Adhesive backed wedges for convenience.
Slimflex Simple Features:
Metatarsal raise - supports the metatarsal area and redistributes weight away from the ball of the foot.
Deep heel cup - supports the heel and reduces pressure by redistributing the body's weight over a greater surface area on the sole of the foot, whlei stabilising the foot to provide greater control and support.
Medial flange - increases control of the medial aspect of the rearfoot. Providing correction, stabilisation, and gait training - increasing arch support.
Medial arch support and lateral control - improves misalignment of the foot. Aids in reducing pronation and improves sagittal plane control.
Size Chart:
| | | |
| --- | --- | --- |
| Size | Size UK | Size EU |
| CS | 12 - 13.5 | 30 - 32 |
| CL | 1 - 2.5 | 33 - 35 |
| XS | 3 - 4.5 | 36 - 38 |
| S | 5 - 6.5 | 39 - 40 |
| M | 7 - 8.5 | 41 - 42 |
| L | 9 - 10.5 | 43 - 44 |
| XL | 11 - 12.5 | 45 - 48 |
| XXL | 13 - 14.5 | 49 - 51 |