Product Description
RUCK has over 85 years' experience in this field, which is reflected in the supremely ergonomic, user-friendly design. A completely new product – tailored to your needs.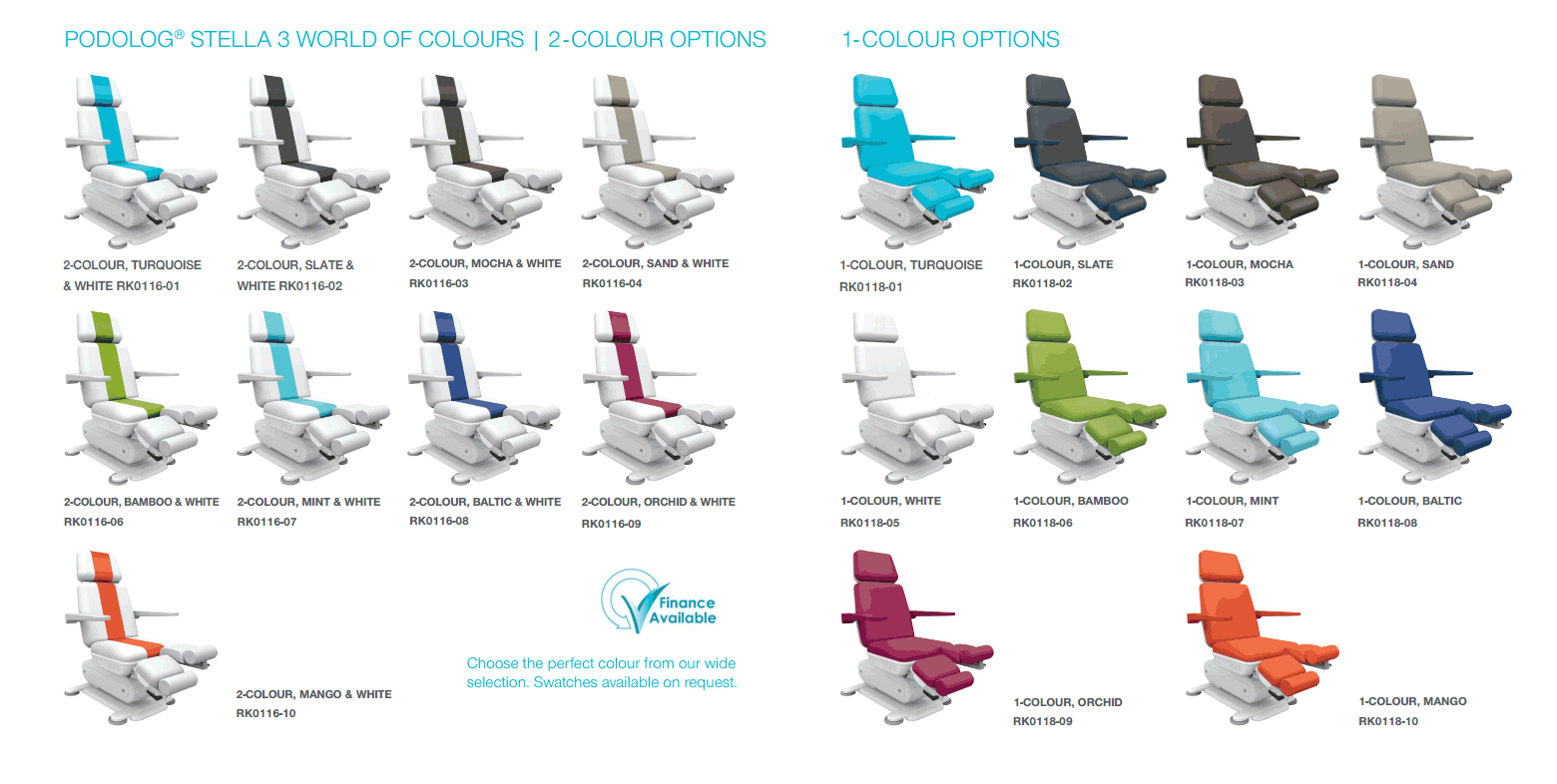 Finance: To discuss financing options for this prodiatry chair, please call us on 0151 4481228.
PODOLOG STELLA 3S UK Podiatry Chair Features & Benefits:
TÜV tested class 1 medical product.
Completely encased in robust plastic, resistant to disinfectants, easy to clean, easy to remove for servicing.
Improved powerful motors can handle loads up to 200 kg and its new hoist drive is 25% faster (only 40 seconds from min to max height). New optimisation of the drives mean less wear on moving parts
New 2-pedal foot switch for easy operation and cleaning, with high protection against moisture
Heavy base plate will not tip over and can be adjusted to any floor level thanks to adjustable round feet.
Harmonious, rounded cushion design.
Foam core, which is highly comfortable and returns to its original shape after use.
The synthetic leather cover is robust and resistant to disinfectants.
Cushions are easy to replace. For heavy duty clinics it is recommended to replace the cushions every 2-3 years depending on usage
Back and seat frame with built-in spring base for maximum comfort.
The foot supports can be swivelled out for added mobility and flexibility.
Round steel frame – sturdy and with no annoying edges.
Swivel mechanism works in both directions, manual release on both sides.
Foot rest release on both sides next to calf support, powerful support from gas pressure springs.
New safety feature prevents "crash" in the event of a defective motor.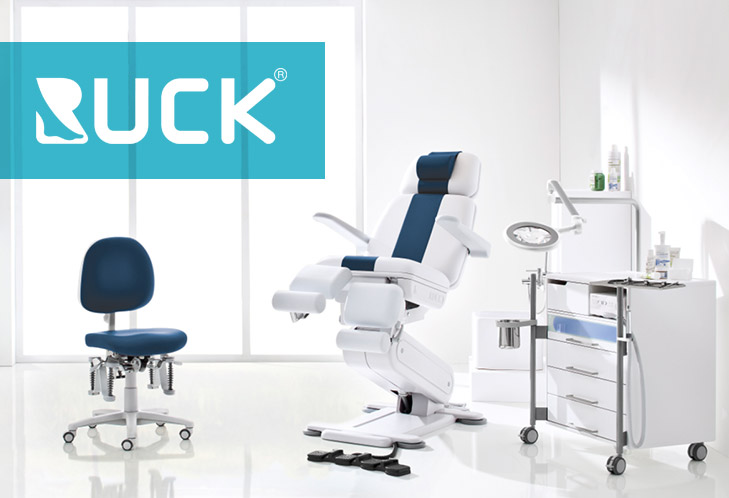 TÜV Tested Safety:
The PODOLOG STELLA 3S Podiatry Chair has been designed from the outset to meet the highest standards of safety for the podiatrist and the patient. We insist on extensive certification and testing in the interests of your safety and that of your patients. We weren't satisfied with only complying with medical products guidelines.
The PODOLOG STELLA 3S also underwent thorough testing at TÜV-SÜD, including a maximum load test of 800 kg (dynamic load), and even more importantly, endurance testing with a lifting force of 200 kg (static load). It passed these rigorous TÜV tests to receive the TÜV seal of quality. Go to www.tuv-sud.co.uk for more information.
Technical Specifications:
Total width incl. arm rests: 82 cm.
Total length with leg supports extended: 202 cm.
Sitting / entry height: 53 cm.
Height of seat max: 100 cm.
Height of leg supports max: 138 cm.
Extension of leg supports up to: 29 cm.
Seat depth x width: 48 cm x 55 cm.
Optimum rotation: up to 180°.
Total weight: approx. 140 kg.
Electrical safety and EMC tested in accordance with new EN 60601-1-1-2:2015
Cleaning instructions:
Disinfect the contact surfaces after each treatment with alcohol-free surface wipes.
Use RUCK Synthetic Leather Cleaner 500ml (RK0112) once a week to maintain the condition of the fabric, with best results when used together with RUCK Eraser Sponge (RK29422)
Do not use alcohol-based cleaning products or other sprays. Do not use synthetic cloths, use cotton or microfibre cloths instead. Always read the product instructions.
Protect your RUCK chair with a range of disposable covers (RK0084, RK0085, RK0086) or washable covers available (RK0128, RK0130, RK0132, RK0134, RK0136, RK0138, RK0140, RK0142)