Product Description
The PODOLOG MOON professional is the top-of-the-line model for the new treatment chair series. Qualified as a medical product, it can withstand loads of up to 250 kg. The MOON Professional gets its unique character through the laminated moulded wood elements, lacquered with disinfectant-resistant varnish that can be selected in natural walnut or with white CPL coating. It represents the unified perfection of ergonomics for the practitioner and comfort for the patient.
The PODOLOG MOON professional represents the perfection of an ergonomic treatment concept. The weight of the customer is spread evenly over the entire surface of the treatment chair. In spite of a variety of working positions while seated, standing positions should also be assumed to rest the back. The chair with custom adjustment gives you the freedom to provide flexible treatment from the side or from the front.
PODOLOG MOON PROFESSIONAL Podiatry Chair Features & Benefits:
Unique design through moulded wood elements.
Remote control with memory functions and programmable user profiles.
Adjustment with electric motors for back inclination/seating area tilt and height adjustment.
Rotation to all sides (270° in each direction).
Load capacity of 250kg in every position.
Optional extension options.
Easy to clean.
All cladding elements are made of high-quality, coated metal.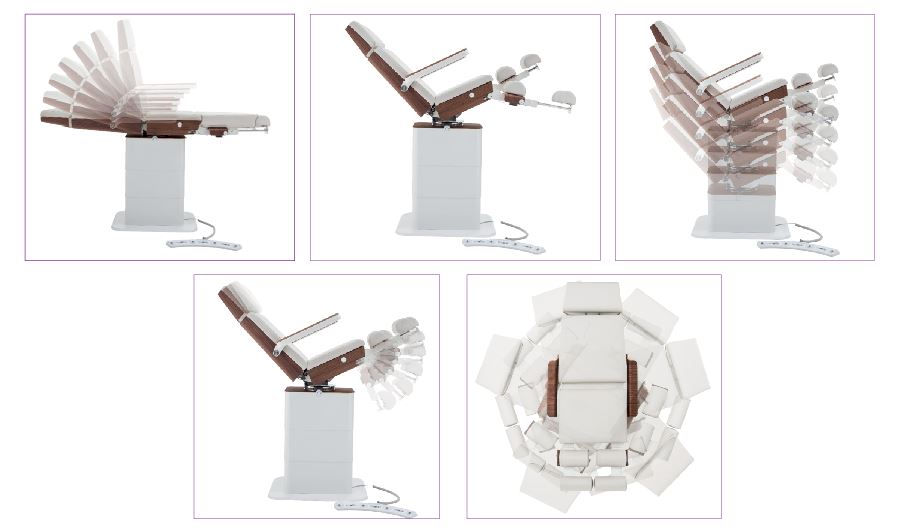 Technical Specifications:
| | |
| --- | --- |
| Mounting height: | 53cm. |
| Maximum Seat Height: | 103cm. |
| Maximum Height of Foot Cushion: | 145cm. |
| Maximum Extension Length of Foot Cushion: | 58cm. |
| Seat Cushion W x D: | 59cm x 49cm. |
| Back Cushion W x D: | 58cm x 59cm. |
| Head Cushion W x D: | 53cm x 25cm. |
| Armrest L x W: | 49/8cm with synchronous operation, can be folded up. |
| Total Width incl. Armrests: | 85cm. |
| Total Length when the foot support is extended: | 200cm |
| Floor plate L/W: | 77x62cm. |
| Total Weight: | 200kg. |
| Rotation (Rotatability): | Seat rotation 360°, lockable in any position. |
| Seat tilt: | 25° electrical. |
| Foot Section Adjustment: | Adjustment with gas-pressurised springs, optionally electrical. |
| Headrest can be Extended: | 14cm. |
| Headrest can be Tilted: | 15°. |
| Neck Cushion: | Included. |
| Transformer Nominal Power: | 270 VA. |
| Protection Class: | 2. |
| Power Connection: | 100-240V 50/60Hz. |
| Maximum Weight Capacity: | 250kg. |
| Operation: | Foot switch with four memory positions (hand switch optional). |
| Compliance: | CE Marked Medical Device. Directive 93/42 EEC Class IIa |
Colour options:

Please note: RUCK products are only available in UK (includes Northern Ireland). RUCK Podiatry Chairs and Podiatry Cabinets require 2-man delivery (quotation available on request).