Product Description

The PODOLOG ECO drill has service-friendly brushless motors delivering up to 25,000 rpm, high suction power and a membrane keypad with large illuminated display, all at an astonishing price!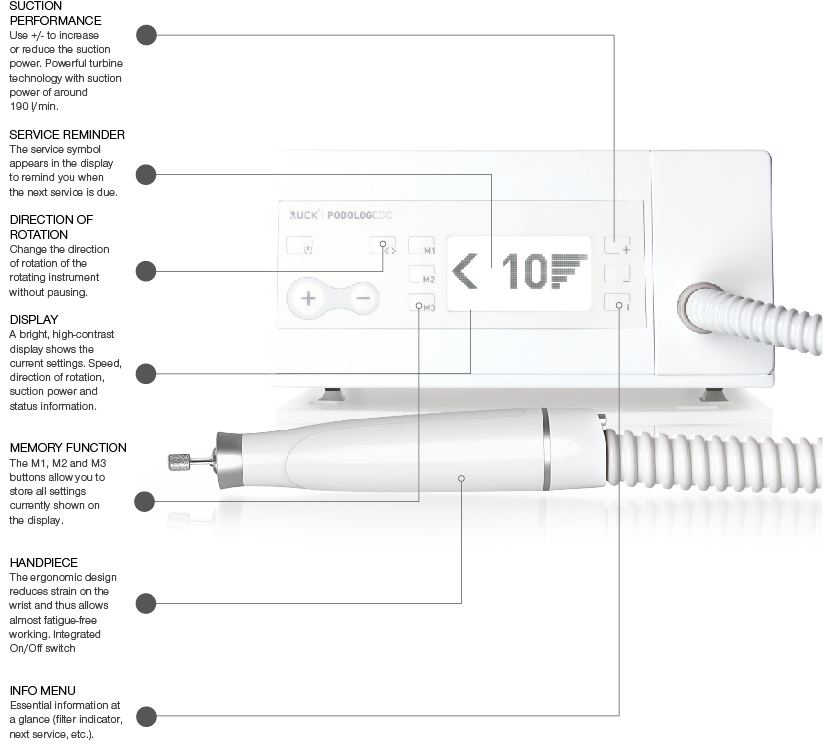 Excellent value drill with tried and-tested technology. Clear design without dirt traps and compact dimensions make it ideal for any professional work.
Stable speeds up to 25,000 rpm, 2-stage suction turbine with effective noise damping, large capacity micro-fine dust filter, membrane keypad with memory function and large illuminated display.
PODOLOG ECO Podiatry Drill
Features and Benefits:
Press touch panel for easy operation and cleaning.

Small

illuminated display with operating status and maintenance reminders.
3 Memory functions for speed and suction.
Forward/reverse switch.
Ergonomic hand-piece made of durable plastic which can be disinfected. W

ith integrated on/off switch.

Automatic chuck for all standard end mill cutters/burs and grinders.
Large micro-fine dust filter with front drawer for easy replacement
Service-friendly brushless micromotors. 2-stage suction turbine with special noise insulation
Operating time: 5 treatments/day.
Complies with low voltage directive 2006/95/EC and EMC directive 2014/30/EU
1 Year warranty.
Suction Performance
Use +/- to increase or reduce the suction power. The maximum suction power is 155l/min.
Service Reminder
The service symbol appears in the display to remind you when the next service is due.
Direction of Rotation
Change the direction of rotation of the rotating instrument without pausing.
Info Menu
Essential information at a glance (filter indicator, next service, etc.).
Display
A bright, high-contrast display shows the current settings. Speed, direction of rotation, suction power and status information.
Hand-piece
Ergonomic design reduces strain on the wrist and thus allows almost fatigue-free working. Integrated On/Off switch.
Technical Data:
Control dimensions: L 250mm x W235mm x H120mm.
Weight: approx. 3.3 kg
Handpiece length: 122mm
Handpiece weight: approx. 110g
Controller voltage: 230 V/50 Hz
Idling speed: 25,000 rpm
Volume Flow at Max. power: Approx. 155 I/min
Suction noise at min. power: 56dB
Power consumption: max. 200W