Product Description
Ice Power Roll-On Gel quickly and effectively relieves pain and inflammation with a very easy application. You can easily treat your own neck and shoulder area with this roll tube. The cold gel absorbs quickly and is convenient to spread without toucing the gel with your hands.
Indications for use:
Strains, sprains, sports injuries.
Reduces swelling, releases muscle tension.
Speeds up recovery in injured muscles.
Haemorrhage and bruises.
Neck, shoulder and back pain.
Ischia's pain.
Children's growing pain.
Minor burns and sunburns.
Stress pain, muscle tension.
Rheumatic pain.
Reduce swelling.
Ice Power Cold Gel Roll Tube Features and Benefits:
Instant pain relieving effect.
Decreases the skin temperature approximately 7 degrees.
Long term cold effect is based on ethereal oils such as Menthol.
Relieves inflammation and swelling.
Effective pain relief.
Activates the production of endorphins.
After cold treatment, the circulation and metabolism are increased in treated area.
Proven effect by clinical studies.
Quick and convenient to use roll tube makes it possible to reach neck and shoulder area yourself.
Easy to use frequently which makes the recovery faster.
Popular and motivating cold treatment also for children.
Colourless.
Safe choice for also children and women during pregnancy and breastfeeding.
Packing size: 75ml.
How to use Ice Power Roll-On Gel
Spread the gel from the roll tube onto the desired area at 3-6 hours intervals, or as required.
Clinically Proven Effect*
The long-term cooling effect of clinically studied Ice Power Cold Gel begins almost immediately after application. The gel can also be used simultaneously with other pain medication.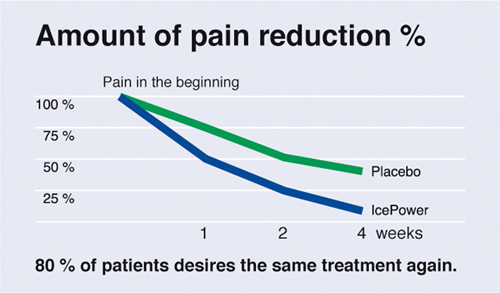 Airaksinen et al: Prospective Randomized Controlled Trial of the Effectiveness of Cold Gel: American Academy
of Physical Medicine and Rehabilitation 9/2001; Archives of Physical Medicine and Rehabilitation 82:1326, 2001;
Airaksinen et al.: Double-blinded Trial of the Efficacy of Cold Gel with soft tissue injuries ISAP, San Diego 8/2002