Product Description
Hydraulic Hand Dynamometer Features:
Baseline® hydraulic hand dynamometer gives accurate grip strength readings without the subject being able to "feel" the handle move. The internationally accepted design ensures reliability, user convenience and measurement repeatability.
Maximum reading remains until the unit is reset.
Five position handle and body design yield results that are consistent with published Baseline® and Jamar® studies.
The strength reading can be viewed as poundsor kilograms.
CE Certified. Comes in a protective carrying case.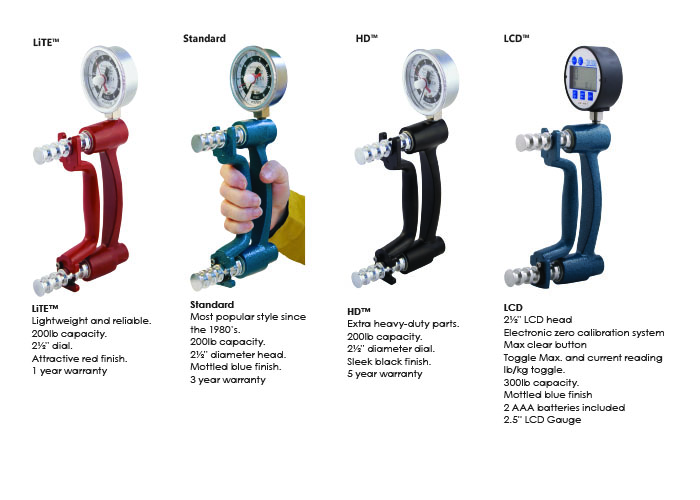 Key:
LiTE™
Lightweight and reliable.
200lb capacity.
2½" dial.
Attractive red finish.
Standard
Most popular style since the 1980's.
200lb capacity.
2½" diameter head.
Mottled blue finish.

HD™
Extra heavy-duty parts.
200lb capacity.
2½" diameter dial.
Sleek black finish.

LCD
2½" LCD head
Electronic zero calibration system
Max clear button
Toggle Maximum and current reading
lb/kg toggle.
300lb capacity.
Mottled blue finish
2 AAA batteries included