Super-soft lining/cushioning material with outstanding performance characteristics.
Product Description
Duleur is a closed cell, PVC-free, slow release cushioning/lining material.
Duleur does not absorb moisture and is easily cleaned with soap and water. It's super-soft characteristics make it the ideal material for use as a lining or as a lightweight cushioning component.
Duleur Foam Features & benefits:
Good impact absorption capability
Soft against the skin
Contouring
Breathable
Good chemical resistance
Closed cell composition
Water absorption free
PVC and Plasticiser free
Thermoformable and easy to work with
Outstanding performance characteristic
Applications:
Insoles and orthotic linings
Orthotic braces and appliance lining - jackets, neck, arm and knee padding
Sports padding
Safety lining for helmets
Wheelchair cushioning
Protective clothing and equipment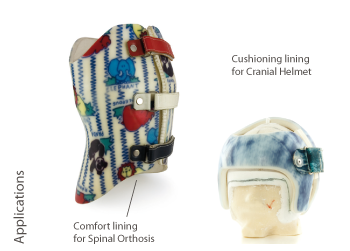 Shore 00: 40-50
Density: 0.09-0.013
Colour: White
Sheet size: 960 x 920mm