Product Description
**BACK IN STOCK**
Non-contact infrared measurement. Measuring distance is under 1-2inch, while avoiding cross infection. More accurate and healthier than standard mercury thermometers.
Sound Alarm: High-accuracy infrared measurement, when the temperature is over, audible alert will trigger. The HD LED screen displays clear and crisp numbers that are easy to read.
Multi-Purpose: The Forehead thermometer is designed for all ages: adults, infants and elders. It supports to take human, room or object temperature.
Memory Feature: It can store up to 32 temperature readings and recall them at any time. This comes in handy for keeping records, and makes it convenient for babies, children, adults.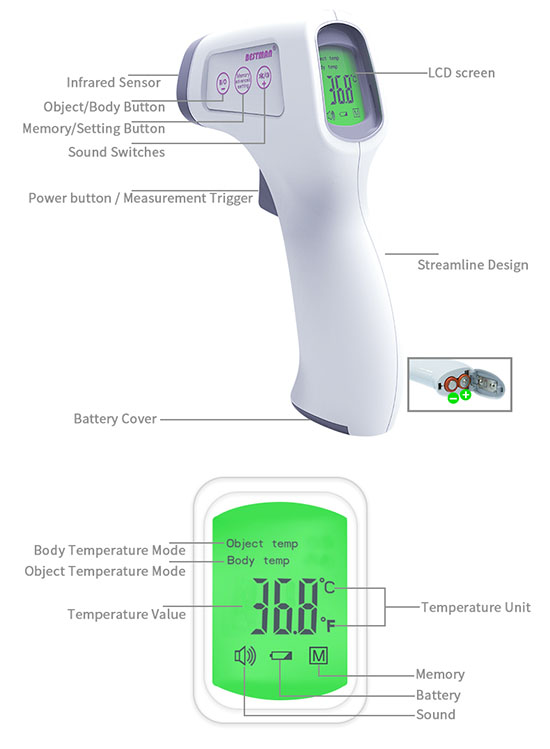 Digital Non-Contact Infrared Thermometer Features:
Easy to operate.
Passive infrared technology - press one key to obtain temperature reading.
Easy to clean.
Measures quickly and accurately
Measurement within 1 second.
Infrared temperature sensor - high sensitivity.
With temperature correction program, the measured results reflect the human body's temperature.
Multi-functional.
Chinese/ English display switching.
Celsius / Fahrenheit unit conversion.
Automatic power-off after staying in idle status (around 10 seconds)
Low power consumption.
32 Sets of measured data memory.
Effective tracking of temperature records.
Suitable for baby over 3 months, adults and the elderly.

Technical Specification:
Test Range: 32.0℃~42.5 (89.6℉~108.5℉)
Maximum Allowable Error: In the range of 35.0℃ ~ 42.0℃: ± 0.2℃(±0.4℉)
Memory Capability: 32 groups
Size: 157mm(L) x 95.30mm(W) x 38.5mm(H)
Weight: 105g
Working Voltage: DC 3V (AA battery - 2pcs needed)
Safety Classification: B type device
Lifespan: 3 years
Packing Size: 210mm(L) x 140mm(W) x 50mm(H) PPE