Product Description
Loceryl/Curanail 5% Nail Lacquer Features:
Loceryl/Curanail 5% w/v Medicated Nail Lacquer is used to treat mild fungal nail infections affecting the upper half or sides of the nail in up to two nails. Each pack contains 3ml of nail lacquer together with reusable applicators.
Please note: This is Pharmacy item (P) so can only be sold to HPC Registered Practitioners.
Indications for use:
For the effective treatment of mild fungal nail infections.
Use LOCERYL/CURANAIL for:
The treatment of mild fungal nail infections in up to 2 nails.
For use on fingernails and toenails.
CLINICALLY PROVEN TO:
1. Penetrate the nail.
2. Kill the nail fungus.
3. Prevent spreading.
Usage:
7 days continuous action per application
Suitable for Adults aged 18 years and over.
For each affected nail:
Step 1) File the affected areas of the nail to enhance penetration.
Step 2) Clean the surface with a cleaning swab.
Step 3) Apply lacquer over the entire surface of the infected nail.
How often:
One application per week.
How long to use LOCERYL/CURANAIL:
Approx. 6 months (fingernails) and 9-12 months (toenails). Continue until the infection has cleared.
Treatment should be reviewed every 3 months by your pharmacist or Health Care Professional.
Contents:
1 bottle (3ml) of nail lacquer.
10 spatulas.
30 cleaning swabs.
30 nail files.
Product information leaflet.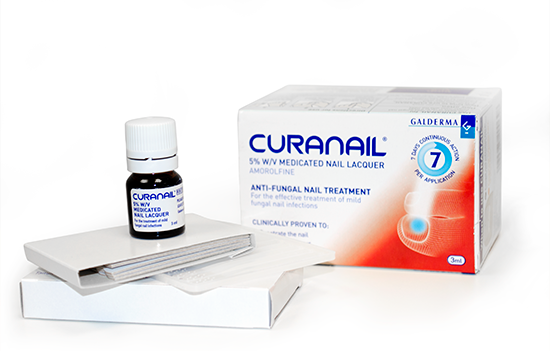 We found other products you might like!