Product Description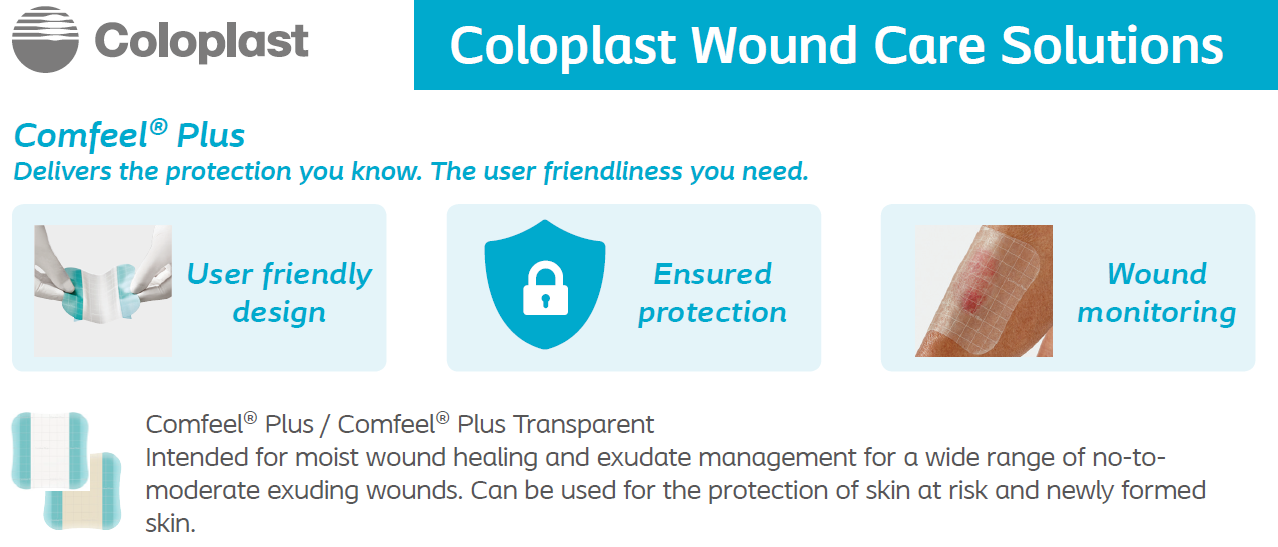 Comfeel Plus - Faster wound healing by sealing and protecting the wound.
Indications for use
Comfeel Plus can be used for the treatment of low to moderately exuding wounds, including leg ulcers, pressure ulcers, superficial burns, superficial partial-thickness burns, donor sites, postoperative wounds and skin abrasions. The dressing can stay on for up to 7 days depending on the specific wound characteristics.
Comfeel Plus Dressing Features & Benefits:
The reliable and trustworthy choice for 30 years
The use of Comfeel Plus hydrocolloid dressing has been clinically documented for 30 years. Today the Comfeel Plus range is the reliable and trustworthy choice as standard dressing in many wound care clinics due to its efficacy, versatility, and extended product range.
Can be used as primary as well as secondary dressing
Comfeel Plus can be used directly on low to moderately exuding wounds in the final stages of wound healing. Comfeel Plus can also be used as secondary dressing.
Bacteria and waterproof top film
The semi-permeable top film allows for evaporation corresponding to the level of exudate, but keeps bacteria and water from entering the wound.
Mode of action
When the dressing comes into contact with wound exudate, it forms a viscous gel that absorbs exudate, but does not adhere to the wound.
Pack Sizes:
Comfeel Plus 4cm x 6cm (Pack of 30)
Comfeel Plus 10cm x 10cm (Pack of 10)
Frequently bought together
We found other products you might like!