Bartonmed Respirator Masks
Respirator face masks have been designed for users to wear over an extended period of time.
GB
https://schema.org/MerchantReturnFiniteReturnWindow
14
https://schema.org/ReturnByMail
https://schema.org/FreeReturn
Product Description
Bartonmed Respirator Masks Features:
Reusable design with separate filters that can be changed daily. Filters are designed to capture contaminated droplets in the air and also help prevent inhalation of dust.
Snug fit around the face ensures all air is breathed in through the filters and not around the mask. As the filter is contained the user can touch their face mask without becoming contaminated, unlike disposable masks.
Please note - these products are not FFP3 masks, as advised for use by the government and are not recommended for front line staff.
Snug fit around nose, cheeks and chin helps ensure exclusion of airborne infections.
Dual air filters to give increased airflow.
Replaceable filters - easy to replace filters to ensure high hygiene levels.
Adult mask is adjustable for three different sizes.
Made from hospital grade fully bio-compatibility tested air tight fabric.
Prevents glasses from fogging up.
Use Anti-Bacterial spray to clean mask daily - also machine washable.
Made by hand in the UK by medcial device manufacturer.
Filters should be replaced daily.
Manufactured in compliance with the requirements of BS EN 14683:2019.
28 Days of Filters Included (56)
Fitting the mask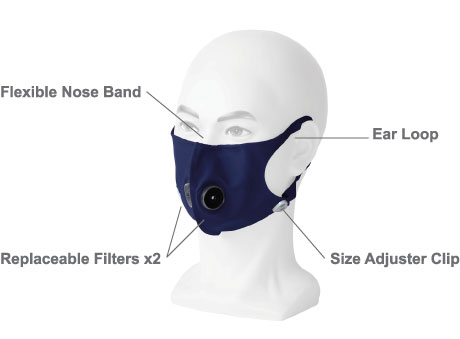 Changing the FIlter
Take mask out of packaging and bend open the nose band to enable mask to fit over your face.
Push the black filter housings out by pushing on the four holes on the inside of the mask. Ensure both sides are removed. Bin any used the filters immeadiately.
If the mask has been worn and you are replacing the filters then ensure you clean the mask and your hands before touching the new filters.
The mask fabric will withstand machine washing or anti-bacterial spray cleaners etc.
Place a single filter into each filter housing, ensuring that they are sitting central and flush.
Carefully insert each filter housing into the clear filter holder on the side of the mask. Ensure that the black filter housing are pushed in fully so that they are flush with the filter holder, or they may drop out.
The mask is now ready to be fitted to your face.
FILTERS SHOULD BE CHANGED DAILY AT MINIMUM
Respirator face masks have been designed for users to wear over an extended period of time and have replaceable filters. The snug fit around the face and nose help prevent glasses from fogging up and provide protection. Please do note that the mask is only a single stage of defence against infection and it is advised frontline workers follow government guidelines regarding personal hygiene.


Cleaning Instructions
It is recommended that the mask is cleaned on a regular basis. This can be done in one of severalways. The mask is made from a material known as Dartex® which is manufactured for use on medical products so they cover many cleaning options.
Be assured that the properties of your Dartex® mask fabric provide the optimal barrier to prevent the spread of infection:
Dartex is impermeable to bacteria, viruses and fluid ingress – polyurethane is a fluid-proof, breathable barrier.
Dartex is safe for skin contact.
Surface Clean
A standard anti bacterial cleaner / wipe can be used to clean the shiny outer surface of the mask. It is recommended that this is done on a daily basis when the filters are changed.
Machine Wash
The NHS lays out some guidelines that you may want to wash items that are contaminated separately, at a higher temperature and with a bleach-based detergent – such as a biological powder
for whites. The Dartex® fabric can be washed at temperatures upto 90 degrees Celsius.
We found other products you might like!